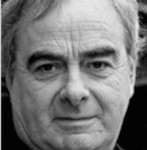 TO REGISTER,  CLICK HERE! 
The NJ chapter of the Society of Professional Journalists and the Guarini Center Center for Government and Leadership are proud to present a talk by Irish journalist and author Ed Moloney on Monday, Oct. 20 at 7 p.m. at St. Peter's University in Jersey City.
Moloney's talk, "The Troubles in Northern Ireland as news and history" will take place in the Duncan Family Sky Room, on the 6th floor of the Mac Mahon Student Center. The presentation will focus on Moloney's experiences covering the decades-long civil war in Northern Ireland and the controversy over the Boston College oral history project on the conflict.
Moloney is the former director of the Boston College oral history project; however he cut ties with the college in 2011, when the U.S. Justice Department, at the behest of British authorities, subpoenaed interviews from the archives.
The interviews were gathered between 2001 and 2006, when Moloney and another researcher spoke with 46 former members of the Irish Republican Army and the Loyalist Ulster Volunteer Force as part of an effort to create a definitive history of the Troubles. In exchange for their memories, the researchers promised their subjects confidentiality until their deaths.
The 2011 subpoena set off a legal fight that ended with a U.S. court ruling last year that required the college to turn over sections of 11 interviews to the Police Service of Northern Ireland.
That information, in turn, lead to the arrest Sinn Fein leader Gerry Adams for questioning earlier this year for the 1972 killing of Jean McConville, who was allegedly executed by the IRA as an informant. Adams was released without any charges.
This past May, Boston College returned material from the archives to interviewees who requested them.The college maintained it could not return the interviews until the litigation was over. Moloney, however, believes the college sold out the project because it did not do enough to live up to its contractual obligations to the interviewees, who had been promised confidentiality.
Moloney was honored in 1999 as Irish Journalist of the Year. He is the author of Paisley: From Demagogue to Democrat?, A Secret History of the IRA and Voices from the Grave, based on interviews with two contributors to the Boston College archive.
A television documentary with the same title was broadcast in Ireland in 2010 and received the best TV documentary award at the Irish Film and Television Awards in 2011.