Soo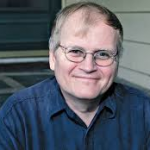 ner or later, open records junkies in the Garden State will stumble on the name John Paff, the man dubbed "New Jersey's busiest open government activist" by NJ Spotlight.
Now Paff is about to get some national recognition as this year's inductee into the State Open Government Hall of Fame, a prestigious award that recognizes one person from across all 50 states whose service, accomplishments and contributions have had a significant impact at the state and local level.
Paff, chair of the state's Libertarian Party's Open Government Advocacy Project and the treasurer of the New Jersey Foundation for Open Government,  makes as many as 700 requests for public documents a year in his quest to find out how well government officials in New Jersey are adhering to open public records laws. He then writes about his findings on his blog, NJ Open Government Notes.
In a news release, Sarah Nordgren, director of Content Development for the Associated Press and one of the judges who reviewed the nominees, said Paff stood out because he is "tireless not only in his support of open government, but also in imparting the deep knowledge he has to others, so that they, too, can work to ensure transparency."
The Hall of Fame is a joint venture of the Society of Professional Journalists and the National Freedom of Information Coalition. The induction ceremony will take place on Oct. 24 at the 2014 NFOIC Freedom of Information Summit  in St. Petersburg, Fla.
Congrats, John. It is a well-earned honor.