CONTEST DEADLINE EXTENDED

Procrastination got the better of you?
There's still hope. We've extended the contest deadline for this year's NJ-SPJ Signature Awards to 11:59 p.m. March 15.
Detailed descriptions of each category can be found on the contest page of our website (njspj.org) or on the submission form itself.
Here is the list of categories:
The Stuart and Beverly Awbrey Award for Community-Oriented Journalism by a weekly or hyperlocal publication

The Wilson Barto award for Outstanding "Rookie" Journalist of the Year
The David Carr award for Reporter of the Year
The Ron Miskoff award for Outstanding Journalism Educator of the Year
The Herbert Morrison Award for Best Audio News Story
The Tim O'Brien Award for Best Use of Public Records in a Story
The Gabe Pressman award for Best Video News Story
The Barbara Reed Award for Outstanding Reporting by an Ethnic News Outlet
The Grassroots Journalism award for Best Coverage by a Weekly or Hyperlocal
Best Investigative Journalism by a Weekly Publication
Best Investigative Journalism by a Daily Publication
Questions? Contact Lew Wheaton, our contest coordinator, at lew.wheaton@yahoo.com or call 973-556-7530
<hr>
ANOTHER CONTEST OPPORTUNITY

In the spirit of cooperation, we're helping to spread the word about another organization'scontest: The Garden State Journalists Association   2019 Memorial Journalism Awards .
The contest is open to all reporters, editors, broadcast journalists, photographers and media relations professionals who live, work in or write about New Jersey. All entries must have been published in the calendar year 2018.
The entry form is here:  http://www.gsjournalists.com/awards-competition . 
All entries and payment must be received  ON OR BEFORE MARCH 22, 2019 .
Mail entries to Anthony Birritteri, New Jersey Business Magazine, 310 Passaic Avenue, Fairfield, NJ 07004.
Winners will be notified by mid-April. Awards will be presented at the GSJA Annual Dinner and Installation of Officers, scheduled for May 22 at Don Pepe's in Newark.
---
INTRODUCING: OUR NJ JOURNALISM HALL OF FAME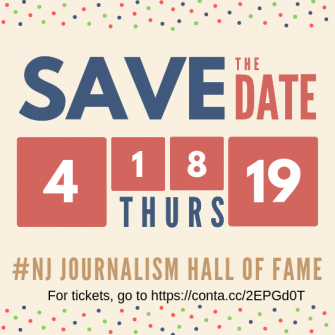 NJ-SPJ will host the inaugural induction of outstanding journalists into our New Jersey Journalism Hall of Fame on Thursday, April 18, at William Paterson University in Wayne. The event will begin with a reception at 6:30 p.m. in Hobart Hall, which houses the university's Communication Department.
We will be honoring Jonathan Alter, Anna Quindlen, John McPhee, the late Gabe Pressman, and the late Edith Schapiro. Cost is $20 per person. To purchase tickets, click here.