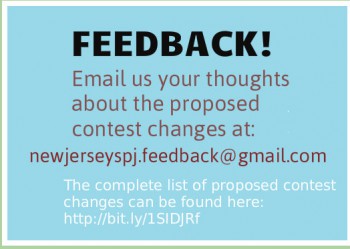 TO OUR CONSTITUENTS:
We are proposing some
significant changes
 to our annual New Jersey Society of Professional Journalists contest this year, and we would like your input. 
We intend to make two major changes to the contest categories.
Here's the summary:
1) WE INTEND TO COMBINE THE DAILY NEWSPAPER AND ONLINE-ONLY AND STATEWIDE WEEKLY SECTIONS INTO ONE SECTION, SO THEY WILL ALL COMPETE AGAINST ONE ANOTHER. This means there will now be two master categories — Local and Non-local — for the written-word portion of our contest. Whether you write for a primarily print publication or an electronic one will be rendered meaningless.
2) WE INTEND TO ELIMINATE ALL CATEGORIES THAT DO NOT INVOLVE THE TELLING OF STORIES. This means we will no longer make awards for headline-writing, page or website design, or cartooning. This is intended to streamline the awards, reduce their number, and with hope, increase the value of those awards we do make.
The complete list of proposed categories can be found by clicking here.  Do take a look. We really do want your feedback, so please email your reactions to  newjerseyspj.feedback@gmail.com.
* * *
ABOUT THE NEW "NON-LOCAL" CATEGORY:
Under this category, entries from the Star-Ledger and Record and Gannett dailies will compete against the New Jersey Law Journal, New Jersey Jewish News, NJBIZ, New Jersey Newsroom and NJ Politicker, and the like. Our thinking is that the traditional dividing line between print dailies and their digital counterparts now has almost no meaning, and as time moves on and electronic devices become more and more the primary way of receiving news, that old distinction will fade away completely. A few years ago, we eliminated the distinction between print weekly newspapers and locally oriented websites, and this has worked out well.
HOW WILL YOU KNOW WHICH CATEGORY YOU FALL INTO?
Your category will be determined by your publication, and not the focus of your story. That means if the outlet that published your intended entry covers the entire state, a large region of the state, or goes beyond the state, your entry will be considered under a NON-LOCAL category.
If your publication is a local print weekly or website that covers only a single town, a cluster of towns, or a county, then your entry will be considered under a LOCAL JOURNALISM category. For example, if you cover a homicide or a gas explosion in a town for that town's hyperlocal website, or a blog that concentrates on that town and a few other adjacent ones, that's a LOCAL JOURNALISM entry. The same story, in the Star-Ledger, the Asbury Park Press or NJ Spotlight, is a NON-LOCAL entry.
WE ALSO INTEND TO INTRODUCE SOME NEW AWARDS:
1) COURAGE UNDER FIRE:  In honor of journalists who exhibit strength in defending the principals of a free press, open records, open meetings and transparent examination of public servants doing their jobs. We will allow people to nominate themselves, or nominate another person's work.  Last year this went to two people who defied subpoenas-which were later overturned or dropped-and a journalist who refused to surrender his camera to police.  (The police later admitted that the request was improper.)
If you feel you are "under fire"-or you know any journalist who is-please contact an NJ-SPJ board member as soon as possible.  Supporting journalists who face pressure is an important purpose of our organization.
2) JOURNALIST OF THE YEAR: For outstanding journalism in 2015. No need to apply for this honor separately. The winner will be chosen from among the first place winners in all other categories.
3) BEST MULTI-MEDIA PACKAGE: Honoring the best use of Web tools to illustrate a story, including use of art, interactive graphics, articles, video and stills, at least using 2 or more of each.
4) BEST PODCAST: Open to print, broadcast and online media. Best on-going series of audio podcasts. Winners will be judged on content, production values and creative use of the medium. Submit up to five examples, each no more than one hour in length.
Again, please email us at 
Newjerseyspj.feedback@gmail.com
 and tell us what you think. Feel free to offer suggestions or refinements. If one or more of our proposals prove immensely unpopular we may withdraw it.
And don't hesitate to make your own proposals for our consideration.