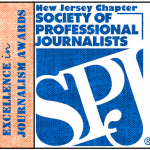 We have come to the end of a sometimes difficult but ultimately educational and rewarding process of updating our annual NJ Society of Professional Journalists contest. We've stuck to our principle of being open and transparent, and we have listened to the criticisms we have received, and responded to those criticisms, in many cases by pulling back from the changes we proposed.
Here
are the categories for our 2016 competition, which will reward the best journalism in our state in the year 2015.
The overview:
First and foremost, we have decided to stick with our decision to divide the lion's share of our competitions into LOCAL and STATE/REGIONAL master categories.
Equally as important, we have heard and responded to the concerns that too many important categories were slated for elimination. As a result, REVIEW WRITING will remain its own separate category, both in the local and state/regional divisions, and non-writing categories, including HEADLINE WRITING and PAGE DESIGN, HAVE BEEN RESTORED. There are also other categories that have been saved in response to popular demand. Please click here to review the final list of categories and feel free to email us with any questions or concerns at newjerseyspj.feedback@gmail.com.
Here is our thinking regarding the Local and State/Regional groupings:
Back before there was an Internet, the divisions were relatively easy to understand. Dailies covered the state and large regions of the state. Weeklies covered individual towns or clusters of towns.
One of the foremost traditions of the NJ-SPJ contest is to honor and exalt local grassroots journalism. That is why we give out the Beverley and Stuart Awbrey Award every year to the weekly – and lately hyperlocal website – which does the most to bring positive change to the community it covers.
This is why for the last couple of years we have had traditional print weeklies compete against local and hyperlocal websites, on the principle that all are primarily focused on communities, the grassroots.
Now we are going one step further and applying that principle to the larger news organizations. In creating the State/Regional master category, traditional print dailies will now compete against websites with a regional/statewide focus, such as NJ Spotlight or NJ Politicker or the NJ operations of Politico. They will ALSO compete against print weeklies with a regional/statewide non-local focus, such as NJBiz and the New Jersey Law Journal.
In the digital age, when a story can be published whenever it's ready, rather than wait for a publication's print cycle to come around, the relevant distinction is LOCAL vs STATE/REGIONAL, not daily vs weekly.
To be clear, a local story printed in a daily newspaper, such as, for example, a story about a gas explosion in a town, is considered a STATE/REGIONAL entry, even though the same story written for a local print weekly or hyperlocal website is a LOCAL entry. We are aware of the resource divide between relatively rich organizations that publish daily newspapers and the bootstrap economics of grassroots journalism, which is why we're doing it this way.
To be clear, NO LOCAL WEEKLY NEWSPAPER WILL BE COMPETING AGAINST A DAILY NEWSPAPER. We have heard some express that concern. It's not true.
We have also determined that making sure we cover our constituency as broadly as possible is more important than "streamlining" the contest or reducing categories. That is why review writing will remain its own category, media-affiliated and independent blogs will remain separate categories; and the newsletter and cartooning categories have also been restored. If you were one of those who were concerned about this, you were heard!
Finally, we will be offering a quartet of new awards:
COURAGE UNDER FIRE – In honor of the journalist or journalists who exhibited the most strength in defending the principles of a free press, open records, open meetings and transparent examination of public servants doing their jobs. We will allow people to nominate themselves, or nominate another person's work.
JOURNALIST OF THE YEAR– For outstanding journalism in 2015. No need to apply for this honor separately. The winner will be chosen from among the first place winners in all other categories.
BEST MULTI-MEDIA PACKAGE – Honoring the best use of Web tools to illustrate a story, including use of art, interactive graphics, articles, video and stills, at least using two or more of each.
BEST PODCAST — Open to print, broadcast and online media. Best on-going series of audio podcasts. Winners will be judged on content, production values and creative use of the medium. Submit up to five examples, each no more than one hour in length.
We are also open, as we always have been, to honoring special efforts, at any level in the business, that may have slipped through the cracks.
The contest is a volunteer enterprise entirely dependent on the efforts of unpaid contributors devoting their free time outside of their regular jobs, which is why it's taken this long to respond to concerns raised by many of you.
We appreciate the time that everyone who has voiced a comment whether supportive or critical, and invite you all to continue contributing to the contest, and to NJ-SPJ overall, whether by being a judge or helping us organize programs or serving New Jersey's storytellers and communicators in other ways, including ones we haven't thought up yet.
The contest goes live on Jan. 4. Good luck!!!