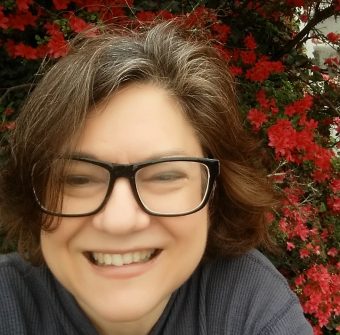 Greetings SPJers, Miriam here!
I hope you're having a productive summer. Here at New Jersey SPJ, 'tis the season for reflection as we prepare for a new year following our annual elections.
As the newly elected chapter president, I am honored and eager to follow up on the good work of my predecessor, John Ensslin. My goal for the next year is to continue serving journalism by focusing on key values of our organization: training, community building, and advocacy. The chapter will be discussing our 2019-2020 calendar at our July 21 board meeting. If you are interested in attending – or just want to send along your thoughts about what you think the chapter should be doing – please email me at ascarelli@gmail.com.
Meanwhile, here's a look at what else is going on:
Volunteers needed for high school journalism camp
Karyn Collins, director of the Hugh N. Boyd Journalism Diversity Workshop at Rutgers University, is looking for volunteer coaches/editors to work with high school students participating in the annual summer program. The camp runs from July 19-28. Karyn writes: "Any and all help would be appreciated'' but notes she is especially in need for volunteers to help students develop and edit text and video stories on the afternoon of Sunday, July 21 and at various time slots from Tuesday, July 23 to Saturday, July 27.
To find out more about what time slots Karyn needs to fill, email her at kdc13@verizon.net
Three cheers for our Signature Awards Winners!
More than 30 people attended our Signature Awards luncheon at the Maize restaurant in Newark last month to fete the winners of our annual journalism contest. It's a measure of the quality of the submissions that our colleagues in the Colorado SPJ chapter said it was a difficult contest to judge because so much of the work was so strong.
Click here if you would like to see the list of winners.
Advocacy: New Voices bill, and a link to the
U.S. Press Freedom Tracker
Our chapter was proud to join forces with the Student Press Law Center, the Garden State Scholastic Press Association and other advocates who testified before the state Senate Education Committee last month in support of a bill that will beef up press rights for high school and college students in New Jersey.
The bill – part of a state-by-state campaign organized by the Student Press Law Center called New Voices – was unanimously approved by the state Senate committee, paving the way for a vote on the floor of the New Jersey Senate that is expected to take place sometime in September.
To learn more about the New Voices campaign and the New Jersey bill specifically, see this report posted on the Student Press Law Center website.
On a related note, we found this: the U.S. Press Freedom Tracker, an online research repository created by a coalition of two dozen-plus journalism organizations, including SPJ. Our chapter takes its role as a First Amendment watchdog seriously; if you believe your rights to gather and disseminate information as a journalist were violated in the course of your work or as a result of your work, please let us know.
Conferences! Have your say
This year's Excellence in Journalism national convention will be held in San Antonio, Texas, from Sept. 5-7, with pre-conference workshops scheduled for Sept. 4. As usual, the conference is packed with all sorts of goodies, with sessions covering topics ranging from data journalism to acquiring public records to how to apply for grant money.
To see the conference schedule, click here; for registration, click here.
Planning for next year's Northeast region conference, to be held March 20-21 at Hofstra University, is already underway. So here's the question: What would you like to learn?
Organizers from the Press Club of Long Island are seeking input. Click 
here
 to take the survey.