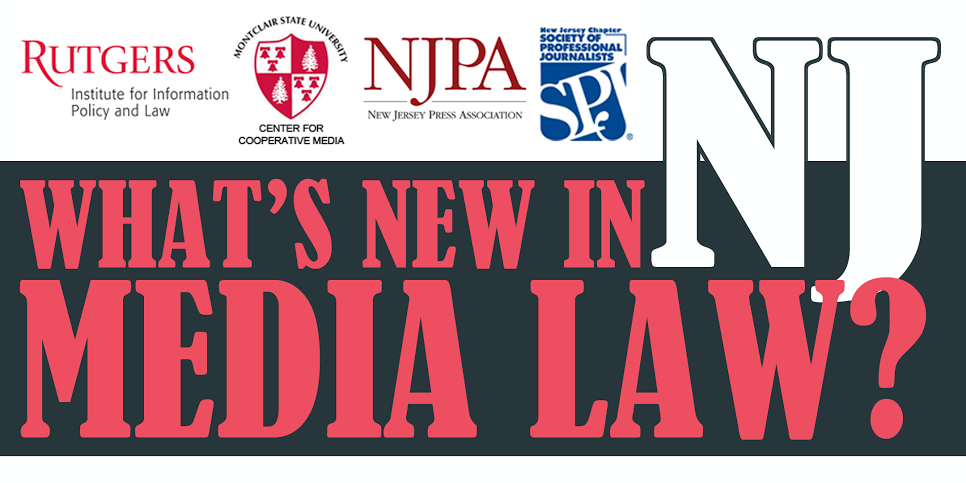 A few important changes regarding the Feb. 19 media law forum, What's New in NJ Media Law?
First, it's being moved to Newark. The new location is Room 395 of Rutgers Law School (Newark campus), 123 Washington St.
Second, the event is free, but registration is still  required so as to maintain a head count for the purposes of food (lunch is still being provided) and room capacity.
Everything else remains the same. The event runs from 11-2 p.m. and will feature the Rutgers Institute for Information Policy and Law's News Law Project, a database of frequently asked questions about media law, as well as two panel discussions on media law: one to address current concerns, the other looks at issues that are emerging as a result of new technology such as drones and police body cameras. Speakers include The Record's in-house counsel Jennifer Borg; the New Jersey Press Association's attorney Tom Cafferty; Mickey Osterreicher, general counsel to the National Press Photographers Association; and Mike Rispoli, director of The Free Press, an advocacy organization that focuses on press freedoms.
The program is co-sponsored by NJ-SPJ, the Rutgers Institute for Information Policy & Law (RIIPL), the New Jersey Press Association and the Center for Cooperative Media at Montclair State.  Click here to register. This is a good one! Don't miss it.