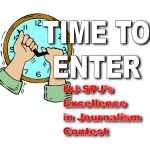 Time's a tickin', and we're in the count-down phase to our March 1 deadline for our annual Excellence in Journalism Contest.  To submit your work, all you have to do is click onto www.betterbnc.com and create an "open call" account. Cost is $20 per entry for SPJ members, $25 for non-members.
Need help with the process? Click on the video in the sidebar column on the right side of your screen. You can also get information about everything from contest categories to payment by clicking on the contest tabs in the navigation menu. Still got questions? Contact chairman David Levitt at dmlevitt125@yahoo.com.
Our contest helps support all the good work we do on behalf of journalism in New Jersey. In the last 18 months, we have hosted free public forums on timely issues relating to journalism in Montclair, Jersey City, Newark and New Brunswick. The most recent was Feb. 12 when 52 people came to Newark on a cold Thursday night to discuss both Charlie Hebdo and the arrest (and release) of news photographer Andrew Flinchbaugh in Ocean County.
We have advocated on behalf of  Jana Winter (Fox News) and Frank Cahill (Parsippany Focus) when they faced onerous subpoenas, and played a key role in fact-finding in the Flinchbaugh case. We also registered our protest when a New Jersey state trooper posed as a news photographer in order to conduct surveillance on protesters.
In short, we've done good work and we deserve support. Now we want to honor other journalists who have done good work.  An award from NJ-SPJ means something.  So enter the contest. You can do something good for yourself and your fellow journalists, while also supporting important work throughout the state.