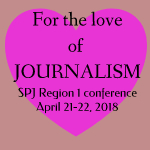 A panel about covering sexual assault and the #MeToo movement, moderated by SPJ National President Rebecca Baker, was held on the first day of the SPJ Region 1 2018 Conference. Baker discussed the topic with Ronnie Polaneczky, a columnist for The Philadelphia Media Network, and Melanie Anzidel, a reporter for The Record — a paper based out of northern New Jersey.
Before detailing how to cover sexual assault, the three discussed sexism and sexual harassment they had witnessed in newsrooms and with sources — like the police officers who asked Baker, then a 26-year-old crime beat reporter, on dates.
"The newsroom has always felt like a sanctuary to me," Baker said, before noting that women shouldn't feel lucky because they avoided sexual harassment in the workplace.
An experience Anzidel had outside of the newsroom sparked her coverage of the #MeToo movement at The Record. After she posted about it on her personal Facebook account, an editor asked if the paper could publish it, Anzidel said.
Printing Anzidel's story prompted The Record to ask readers to share their personal #MeToo stories with her — a callout that molded her article, "#MeToo: The stories of sexual assault you haven't heard." It featured many women of different ages and occupations.
The panelists discussed tips for reporters approaching this topic, like corroborating sources' accounts with documents.
Polaneczky urged journalists to never deny their time to a source who says they have information about alleged sexual assaults and to consider ways to report on this topic with new and unique angles.
Most importantly, journalists need to dig into the systematic structures that allow sexual assault to be so prevalent in our society, Polaneczky said.