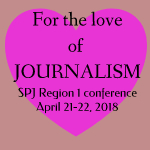 Journalists are going to need a variety of new skills, and publications are going to need a variety of new income sources, as news organizations continue to navigate the digital world.
That was the main message of panelists at the "Going Digital" session Saturday, featuring Billy Penn's Danya Henninger and Philadelphia Media Networks's Patrick Kerkstra, moderated by Mike Feeley of PA Media Group, publisher of The Patriot-News and PennLive.com.
Having a digital presence isn't an just an option any more; it's a necessity, panelists said, and if a publication is not online yet, they have a lot of catching up to do. As for those operating in the digital realm (and most are), there's no question digital has its own set of dynamics. Even outlets like Billy Penn, which began their lives in the digital realm, continue to learn what works through trial and error.
The new digital reality has changed the skillsets young journalists need to get hired. Panelists told the mostly student audience that, although reporters are occasionally hired because of their writing ability alone, most are hired based on their ability to adapt. This means shooting and editing video, reporting, photographing and the intersection of all three.
One key skill all three panelists recommended learning: Google Analytics. In a world of live updating and where online publications feature virtually every type of media, web analytics are essential for determining what people will read and how.
However, focusing on analytics can also be a detriment to journalistic enterprise, they said. Reaching a target number of page views or a certain scroll depth can obscure writers' abilities if they dwell on it too much instead of perfecting their work and maintaining their commitment to accuracy, according to Kerskstra.
Diversification of revenue might be the most jarring part of the shift from print to digital, or, as in the case of Billy Penn, taking the plunge straight to digital. Generating revenue for an online platform can be daunting.  Display ads are not the money makers they once were, and therefore many news organizations, including Billy Penn, the Philadelphia Media Network and the PA Media group, are looking to events, sponsorships and grants alongside their advertisers to generate revenue.
Regardless of the platform or the source of revenue, journalists' ethics are about the only thing that has not changed as they shift from print to digital. Though the traditional wall between the newsroom and advertising is crumbling and people from both departments often find themselves in the same room together talking about ways to create revenue-generating activities such as events and newsletters, newsroom leaders need to continue to uphold journalistic standards, the panelists said.
Feeley, of the PA Media Group, gave the example of how the advertising department asked his newsroom to do a newsletter about medical marijuana, but the advertising staff only wanted positive stories. "We're, like, 'we can't promise that,' '' Feeley recalled. " 'There's as many people opposed to this as there are for it, and we're going to represent that in our coverage. That's fine if you want us to do a newsletter for it, but we've got to represent both sides.' So they know that going out the gate.''