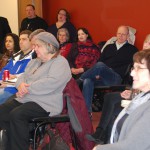 See this photo? It shows the great time that was had at last week's NJSPJ open house, tour and meeting at Montclair State's Center for Cooperative Media.  And, yes, more things are a-coming, starting April 12-13 with the SPJ Region 1 conference at Rutgers University in New Brunswick.
Our line-up includes a reception with Victor Navasky, publisher emeritus of  The Nation; a keynote address by Martin Gottlieb, editor of The Record; a presentation on narrative journalism with Pulitzer-prize winner Amy Nutt Ellis; a session on "How to avoid spin" with SPJ National President Sonny Albarado; and workshops on the latest web, video and digital journalism tools.
And here's another headline: There's an early-bird discount for anyone who registers between now and March 20. This makes our conference one of the most affordable SPJ conferences in the nation.
Our bargain prices? Here they are:
Professional non-members $90*
Professional members $70*
Student non-members $45*
Student members $30*
Saturday only (pro non-members) $80**
Saturday only (pro members) $60 **
(* includes opening night reception and Saturday lunch)
(** includes Saturday lunch)
Invest in yourself. See you there.