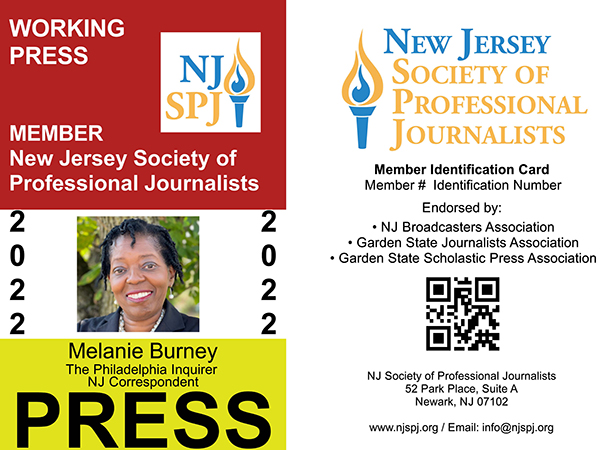 ---
New 2022 NJ Access Policies
Office of the Governor
2022 Statehouse Access Policy
New Jersey Attorney General Guidance
"Starting on August 1, 2021, if a member of the press wishes to attend a press event that is not open to the general public, such as a press-only briefing, the individual must present valid media credentials. Such credentials must identify the individual as a journalist or reporter and must have been issued by a recognized press association (such as the New Jersey Press Association or the New Jersey Society of Professional Journalists), governmental body, law enforcement agency, or another entity recognized in other jurisdictions…"

Click here for full statement: State of New Jersey, Office of the Governor: Access to Media Events
Visible press identification. "Members of the press should wear clearly visible identification— such as large, brightly colored and reflective, double-sided press identification cards to be worn around the neck, including, but not limited to, those issued by the New Jersey Press Association (NJPA) and New Jersey Society of Professional Journalists (NJ-SPJ)…"

Click here for full statement: Guidance on Interactions Between Law Enforcement and Press at Public Protests. (There is a lot of important guidance here. All reporters should read this.)
---
Only two organizations issue the accepted 2022 NJ Press ID Card, recognized by both the Offices of the Governor and the Attorney General, as indicated above. One is the NJ Society of Professional Journalists (NJ-SPJ) and the other is the NJ Press Association (NJPA). We will save you some math: It is less expensive to get your credentials through NJ-SPJ —you are already on our website — unless you require more than eight cards. Then you might consider applying to the NJPA. Your organization must be accepted and pay their dues. Please contact them for further info.
The NJ-SPJ NJ Press ID Card is further endorsed by the NJ Broadcasters Association, the Garden State Journalists Association and the Garden State Student Press Association. Please understand that there are no government-issued New Jersey press credentials in 2022. The NJ Press ID Card identifies you as someone who is accepted as a journalist by your peers. Many towns, agencies, sports venues and others use this to determine who gets the rights and privileges customarily accorded to the working press.
There are some important improvements for 2022:
Description Field. Previously, your card listed your name and media affiliation, with the third line always being the town to which the card was mailed. Now we allow you to customize the third line to better identify yourself. You can put your beat, such as "Statehouse Reporter" or "NJ Correspondent." Or you might put a better locator, such as "Bergen County."
Directory of NJ Journalists. Everyone with a 2021 card is automatically enrolled. There are two big benefits to this, which will help people who have tips — and possibly jobs — find you. It is linked to a QR code on the back of your card. You can allow anyone with a phone to quickly verify that you are legitimate.
Vehicle Card. The 2022 Vehicle Card is already laminated and features the word PRESS in large letters, printed directly onto R100 reflective tape , a United Nations standard. In addition, each press card holder my purchase up to two vehicle cards this year.
Faster Turnaround. We now produce the cards at the NJ-SPJ offices in Newark. That means much faster turnaround, although new applicants still must be verified. In addition, FedEx shipping is now available for those who wish to pay for it.
---
In November and December 2021, we are running a sale to bring your NJ-SPJ membership in-line with the calendar year, as that is how press cards are issued.
CLICK HERE if you had a 2021 card and you are renewing.
NEED TO ORDER CARDS FOR YOUR NEWS STAFF?

If you are an editor or news director applying for more than one card, please email info@njspj.org for a spreadsheet form and instructions.
CLICK HERE if you are a new applicant