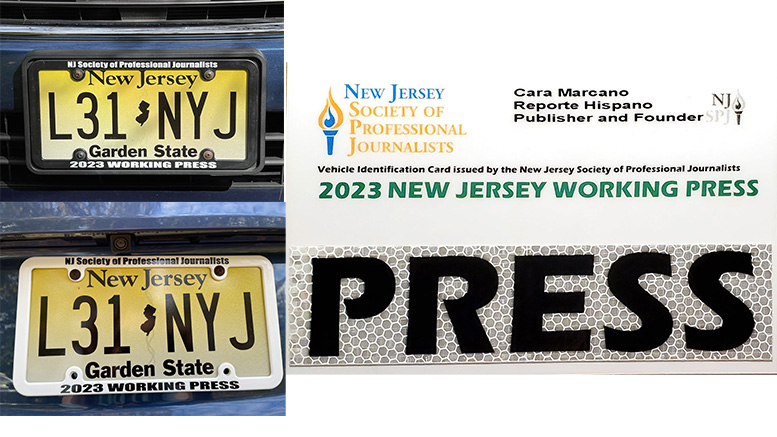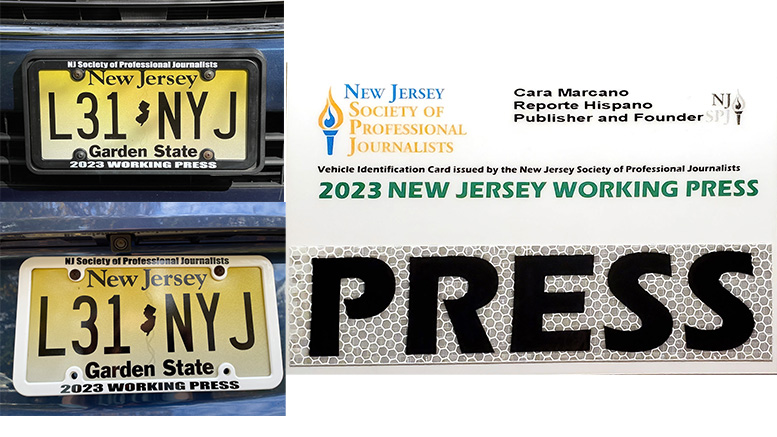 NJ-SPJ now offers TWO options for vehicle press identification: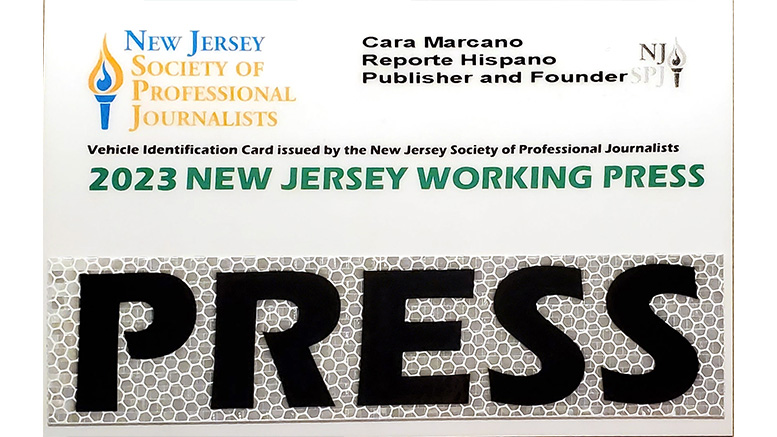 The traditional laminated visor card, which includes your name and media affiliation.
License plate frames to note your 2023 Working Press status. You can order a set (front & back) in either black or white.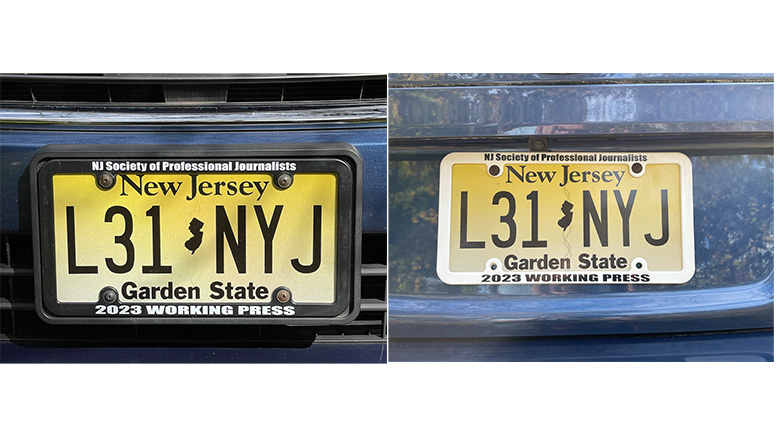 In addition, the NJ Motor Vehicle Commission just announced that the NJ Press ID Card, offered by both NJ-SPJ and the NJ Press Association, is needed if your wish to obtain NJP license plates from the state. This costs $50 and must be done through a NJMVC office. (More on this below.)
Three things you must know before going further:
To get any vehicle press identification, first you must be approved for a 2023 NJ Press ID Card. You cannot obtain vehicle credentials without first having a valid 2023 card.
All NJ press credentials are for the "usual and customary" courtesies offered to members of the working press. They do not give you any enforceable legal rights. At major news stories, however, police often designate an area for the press to park. Vehicle credentials will help police and other first responders properly identify you. In addition, many municipalities give journalists some leeway when parking close to public meetings, as they realize that many reporters now carry a lot of equipment to livestream.
The credentials that you receive from NJ-SPJ are recognized in guidance issued by the Office of the Governor, the NJ Attorney General and, more recently, the NJMVC.
Frequently Asked Questions:
What do I really need? If you often drive your vehicle to breaking news stories or to municipal meetings, we recommend that you get both the license plate frames and the laminated visor card. That's because police officers look at your plates before they begin writing the ticket, but then they may check to see your visor card, which has your name and media affiliation on it. Further, the license plate frames are new, while the visor card has been around for decades. Many officers look for it. You do not want to receive a ticket that police do not feel you deserve.
Does the laminated visor card benefit me in other situations?
You can pick-up your visor card and show it to an officer when you arrive at a fire or crime scene. You may be directed to an area where the television vans are parked. You can also show the card to a municipal lot attendant, if you are covering a meeting. They are highly reflective. You should use your visor card when covering stories and remove it when you are not.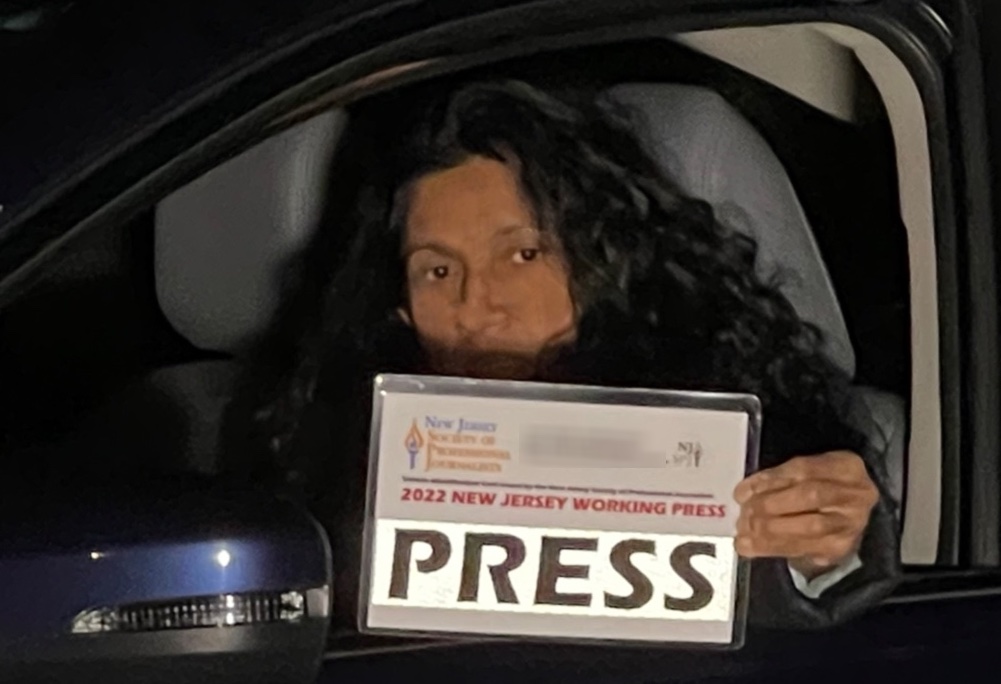 Do I need NJP plates?
This is a tough call. There are not a lot of NJP zones, outside of the statehouse area in Trenton. They cost $50. You must go through the NJMVC, with all the usual procedures and regulations for switching out your license plates.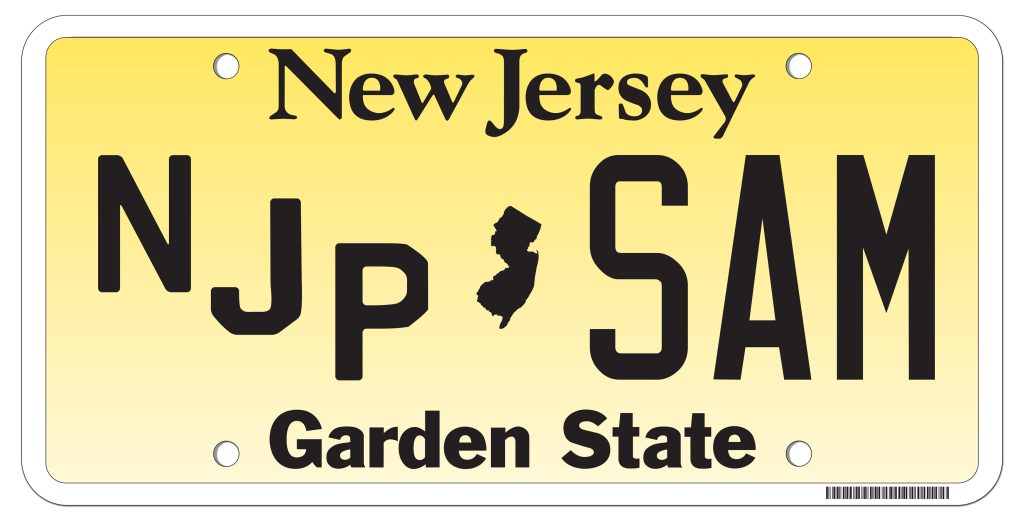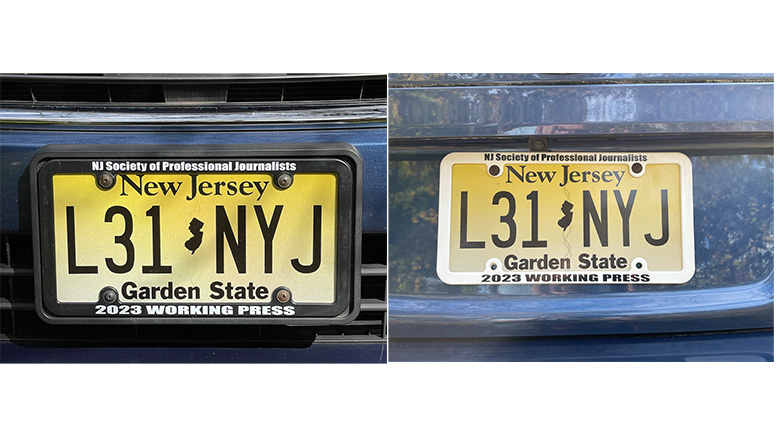 More importantly, many people, including police officers, do not realize that NJP stands for New Jersey Press. The license plate frames, on the other hand, spell out exactly what they are.
If you want NJP plates, you can download Form SP-23 here. Look on page nine.
NJ-SPJ has been informing law enforcement about the advent of Working Press license plate frames for 2023. Until recently, the NJP license plates were in limbo, as they required a state police credential that is no longer available. Now that you can get one with your NJ-SPJ Press ID Card, we will seek to get more NJP zones created.