Frequently Asked Questions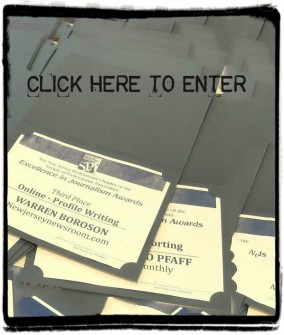 Who can submit?


Any journalist who lives or works in New Jersey or who reports about New Jersey or the region. We also welcome work (stories, videos, photos, multi-media) from people who live and work in New York City and Philadelphia, as long as the story affects New Jersey or New Jerseyans, or is about regional issues like transportation, the cleanliness of our beaches or the economic vitality of our region. We will accept stories on national and international issues if the authors live in New Jersey, or if the story has a strong NJ angle or if the publication, video channel or website is primarily situated in New Jersey.

Why enter? For a lot of reasons.


The NJ SPJ awards are prestigious. The entries are judged by out-of-state reporters, editors, photographers, videographers, graphic artists and various other professionals who do not know the identity of the entrants. This means awards are given on the basis of quality. When you have an SPJ award on your resumé, you advance above other candidates.

 
Check out our categories.
With more than 50 categories from spot news to feature photography, we've got something for everybody. For more info about our eligibility guidelines, click here.

Notice those special awards.


Our Barto award honors first-year rookies, our O'Brien award recognizes reporters who used the N.J. Open Public Records Act to expose issues of public significance and our Awbrey award pays tribute to one weekly or local news site that has helped make their community a better place. Click here to find out more.
Our fees are reasonable.
It's $20 per entry for SPJ members and $25 for non-SPJ members. And if you're not a member, seriously consider it. Not only do you get the member discount on your contest entries, there's value in that $75 

SPJ membership

. To find out what you can get out of SPJ, go here. To learn more about our chapter, go here.
How it works.
This is the fifth year that we're working with the Better Newspaper Contest to manage submissions online. For directions on how to create a log-on and upload your work, click on our Enter Now! page. After you upload your work, look for

the "calculate your entry fee'' link and then use Paypal or your credit card to pay.

 
Need more help getting through the process?

 Email Terry Williams, our contest administrator, at spj.nj@cox.net or call her at 619-743-3669. 
And remember the deadline.

It's 11:59 p.m. March 1, 2017

EXTENDED TO MARCH 10

 for all categories EXCEPT the Awbrey. The Awbrey deadline is March 8.

EXTENDED TO MARCH 17