DEADLINE EXTENDED UNTIL 11:59 P.M. EST MARCH 10!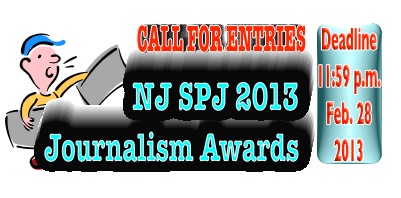 The annual NJSPJ contest is open for business!
What's new? This year's contest is all online. We're working with the Better Newspaper Contest to manage the submissions, so you'll have to go to www.betterbnc.com to submit your entries. (Fear not: we walk you through the process here; contest guidelines can be found here.)
You'll also notice that we've added some new categories this year in order to better recognize the outstanding work being done by digital journalists, but it's a big tent — we've got something for everyone. To view the complete list of categories, click here.
As for cost, it remains the same. It's $20 per entry for SPJ members and $25 for non-SPJ members. And if you're not a member, seriously consider it. Not only do you get the member discount on your contest entries, there's value in that $75 SPJ membership. To find out what you can get out of SPJ, go here.
Winners will be announced on our website (njspj.org) and at an awards ceremony in the spring.